5 Apps for Wheelchair Users
Apps are the new form of real world convenience. There is an app for almost anything you need these days and it's no different for wheelchair users. Although the apps may not show up in search suggestions or are as popular as your next favorite app, they are very much available and great for wheelchair users. Here are  5 available apps that wheelchair users can benefit from:
Wheelmap
Wheelmap is essentially an accessibility map app. It shows users whether places/points of interest (POIs) such as train stations, bus stations, malls, cinemas, etc. are wheelchair accessible or not, and users are able to mark the POIs accordingly. The app was launched in 2010 and although the main focus area has always been Europe, the number of users are slowly growing and Wheelmap now runs on 22 different languages. It's available on both the Apple App Store and Google Play Store. For Wheelmap to grow and become a more effective, it needs more users. So anyone who has family or friends who are wheelchair bound should download the app and make use of it too.
WheelMate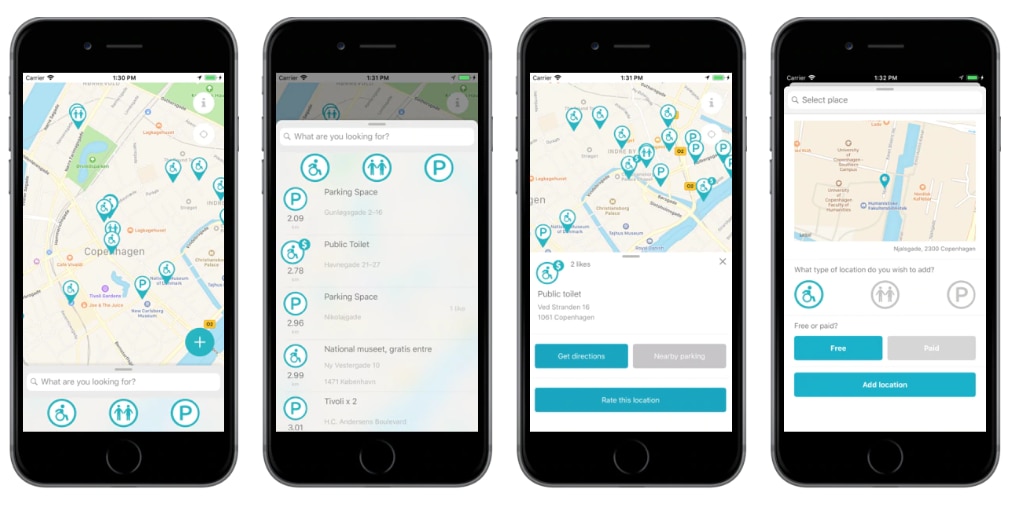 Wheelmate is an app that focuses on public necessities like restrooms and parking spaces for wheelchair users. It has an estimated 17000 users from 45 countries, and currently maps more than 35000 locations worldwide. It may not be as versatile as the WheelSomething app, but it serves its purpose well, especially for those who already know what they're looking for specifically. This app by Coloplast is available on both the Apple App Store and the Google Play Store.
AXS Map App
This app was created by Jason DaSilva, a film maker with multiple sclerosis. It is basically a user-generated database app that runs on the Google Maps platform. How does it work? It allows users of the app to leave ratings, reviews and comments about POIs with regard to accessibility for the disabled. The information is available for public viewing, allowing wheelchair users, and people with other disabilities to read through the reviews and decide if and how they plan to visit their selected location. The main difference with the other apps is that users don't mark the POIs, but rather review them in detail to describe the obstacles present for potential visitors. The database is not very big at the moment, but it is growing, and hopefully in the next few years there will be more users, subsequently generating more information for the benefit of other users.
MobilityWorks App
It is the official app for MobilityWorks, which is owner by WMK, Inc. MobilityWorks started off in 1997 as a national retail chain selling new and used wheelchair-accessible vehicles in the USA. As all great companies progress, they now serve as a major online platform running the same business, with over 70 sales outlets. The app is where you can find all kinds of information about wheelchair-accessible vehicles such as inventory and availability, rental charges, sales for new and used vehicles, news about events, etc. MobilityWorks targets mainly the USA market.
Uber
Surely we are all familiar with this renowned transportation service app, but not many actually know that Uber also has UberACCESS. UberACCESS cars are wheelchair accessible, as they come with a rear entry ramp and 4-point restraints for the benefit of wheelchair users. The great thing about UberACCESS is that the drivers are all trained to assist and handle disabled customers, and the fares are the same as UberX; no extra charge at all!
These apps are great for wheelchair users as they would help with planning journeys better, travelling with peace of mind, and being more independent. More people should be encouraged to use these apps so that there is more awareness about the obstacles faced by wheelchair users, and so that developers have a bigger database to work with. If you know anyone on a wheelchair, help them out by using these apps!